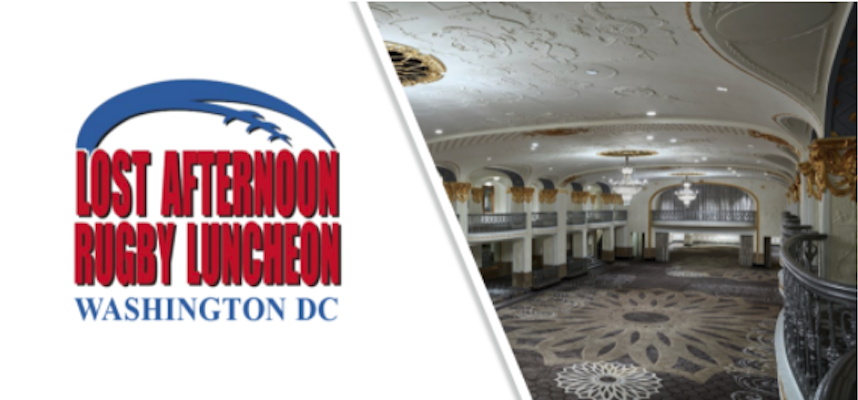 Speakers for the Lost Afternoon Lunch on October 22 in Washington DC have been confirmed.
The Lost Afternoon Luncheon, taking place this year at the Mayflower Hotel, is a big tradition on the American rugby calendar and is a great way for sports fans to support the US Rugby Foundation and hear some of the luminaries of the game.
This year's list of speakers includes:
Gary Gold, 15-year-old United States Men's National Team head coach
Major League Rugby Commissioner George Killebrew
Blaine Scully, former captain of the United States Eagles
North America Youth Rugby Referee Program Director Ken Fraine
Tendai Mtawarira, former DC Old Glory champion and Rugby World Cup champion, South African Springbok
Sign up for the lost lunch today while there is room
One of the traditions of the Lost Afternoon Luncheon is the raffle and silent auctions of great autographed rugby and baseball memorabilia. This year is no exception. Among the items drawn are:
Replica United States shirts signed by: the Eagles team to face the All Blacks; the American men's and women's Olympic teams; and current and past American players
Replica New Zealand All Blacks jerseys signed by many current All Blacks from this tour and past All Blacks including Ma'a Nonu, Kieran Read, Richie McCaw, the All Blacks 2002 team and the All Blacks team 2005 Grand Slam
Baseballs signed by some of Major League Baseball's biggest stars including Clayton Kershaw, Miguel Cabrera, Kris Bryant, Buster Posey and Fernando Tatis, Jr.
A made-to-measure jersey signed by all the winning captains of the Rugby World Cup will be auctioned.
Join the United States Rugby Foundation at the Lost Afternoon Luncheon in Washington, DC at the Mayflower Hotel on Friday, October 22, and stay to see the United States take on New Zealand in 1874 at FedEx Field on Saturday, with the Army vs Navy match as a curtain raiser.