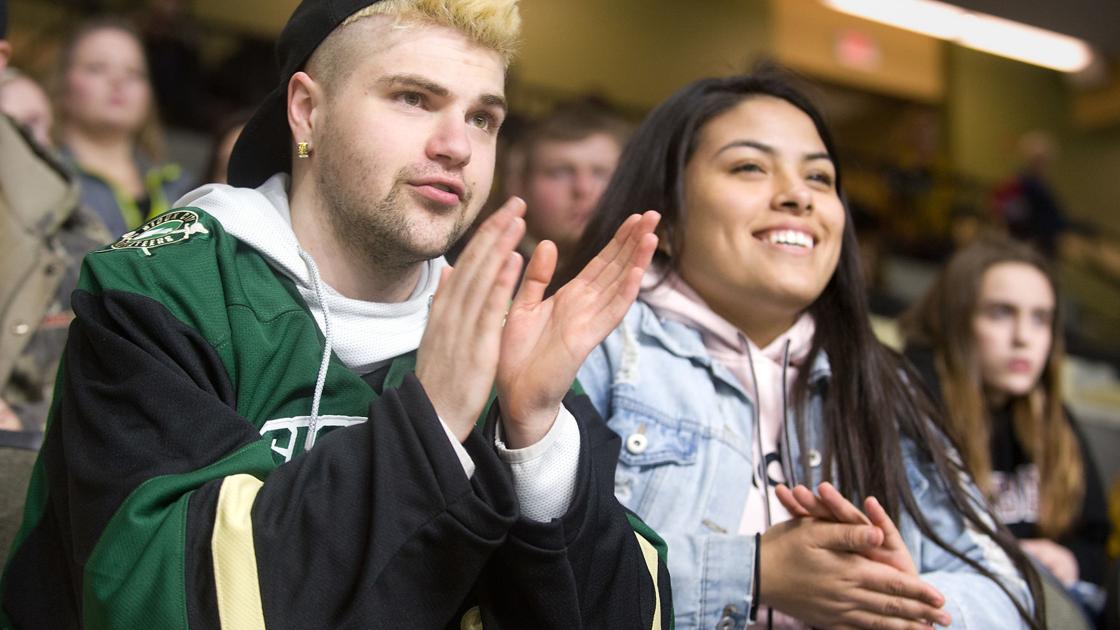 SIOUX CITY – Go big or come home.
That's the mantra with which the Sioux City Musketeers front office enters the home hockey season, and that home schedule begins at 6:05 p.m. Saturday against Sioux Falls at the Tyson Events Center.
Musketeers CEO Travis Morgan said there was a lot of hard work and time to put together such an in-depth promotional schedule, but even in a pandemic, it was priority # 1.
"In my opinion, hockey is important to Sioux City," said Morgan. "(Owner and Managing Partner) Lloyd (Ney) and our group of owners saw it like this: We are a fabric of this community. This community needs something to hold onto to give them a sense of normalcy. It shows how incredible leadership we have in this organization.
"People have to come and support this," Morgan added. "If we do it together as a community, and people come, all of a sudden there will be 3,000 people in this building, then everyone will want to come. We will provide the promotions and the good hockey, people just need to volunteer their time. We can build something really special.
This is the first time the Musketeers have put together such a thorough schedule, and it started even during last year's season.
The pandemic played a role in this.
The Musketeers couldn't let in full capacity, and it didn't make much sense to increase a promotional calendar with freebies, knowing that there would be plenty of packages left.
Some subscription holders have not renewed due to the pandemic. The Musketeers could only occupy 2,500 seats, and it had to be overnight if everything fell into place, according to Morgan.
"Our group of owners knew we were going to take it in the pants last year," Morgan said. "They also knew that this hockey team means a lot to this city. There was never a conversation about us when we left (like Madison and Cedar Rapids). Not once. "
After the fan limitations were lifted, so did the proverbial gloves, so to speak.
"We didn't know if we had 500 people with COVID," Morgan said. "We had to do this in a year without COVID. It's the 50th anniversary. It's time to "go big or go home". You jump in and ask questions later.
Morgan admitted that there were ideas that came to his mind while he was trying to sleep, and he and the rest of the Sioux City staff worked around the clock to create ideas that would appeal to fans of all interests.
"There is a lot of work and there is a lot of logistical stuff," Morgan said.
The first promotion starts on Saturday with a magnetic schedule.
"I think over the years it's something that sports people expect from something when they come to a game and they want something or expect something to happen." Morgan said on team media day on Tuesday. "When we have recognized this, it can only help us. When you factor in that the people of this town are looking for something to do, maybe they don't know hockey, but they know about free hockey sticks or they know Harry Potter.
Riverside Technologies, Inc. of North Sioux City has stepped up, according to Morgan. RTI stepped in and handled most of the promotional items.
"When we have a partner like RTI, you take some kind of risk," Morgan said.
On October 22, the Musketeers are organizing their "35 Forever" evening in honor of the late Matiss Kivlenieks.
Kivlenieks died in an accident in July and he was a former Musketeers goalkeeper.
The first 1,000 fans through the gates will receive a hand-painted Kivlenieks poster, and the Muskies will retire with the No.35 jersey in the rafters.
Morgan knows how special this night is going to be.
"This is going to be special," Morgan said. "He has kept in touch with a lot of people here in Sioux City. It was very close and near and dear to his heart. It will be a difficult night, but it will be a magical night.
Cross Check Cancer Night will take place on October 23 and Hockey Halloween will take place at the Tyson Events Center on October 30.
Other goodies this season include mini baton (November 12), T-shirt nights throughout the season, gold puck (January 7), youth jersey night (January 14), sunglasses (January 28) and a 2002 Shirzys replica on March 5.
For a full promotional calendar, visit musketeershockey.com.
6 p.m. time change
Des Moines saw a higher turnover when the Buccaneers brought their tee time forward an hour in advance, and after a conversation with Bucs general manager Nate Teut, a light bulb lit up in his head by Morgan.
The Musketeers see the kids want to come to games, but by the time the third period came in for a 7:05 p.m. puck face-off, these young fans were tired and ready to go home.
"Nate told me they increased their income because it's more family-friendly," Morgan said. "They can come here, have dinner early, start drinking here and eating here. Most importantly, it gives you more options to get out or finish your night earlier and be in bed earlier.